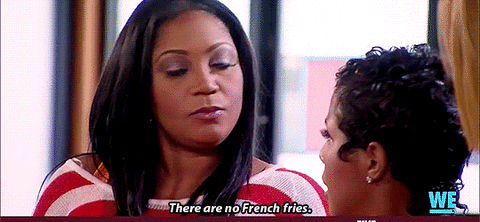 There's only so much Penne Arrabiata a girl can take.
I've never really encountered any problems being a vegetarian. People at Uni in England weren't too bothered. They let me eat however I wanted. Whenever I went out to eat, I was spoilt for choice. I was still recognised as a human being. It was all lovely and great.
Then I moved to Paris.
You may note the very few "food" posts I have on this blog. That's because I'm starving. I can't really go out to eat, because there's basically nothing on any menu for me.
1. SALADS
I'm not opposed to a salad. They're great. A bit of veg, a bit of feta, maybe some cous-cous if I'm feeling adventurous.
Do any "vegetarian" salads on Parisian menus seem even slightly worth the 15 euro price tag? Not really. Don't take out the chicken, give me some lettuce and tomato, and assure me I'll love it… I won't love it.
I just don't want to overpay for a bowl of lettuce. I can have that at home for 1 euro, thank you very much.
2. YOU'LL MAYBE HAVE 1 or 2 CHOICES – IF YOU'RE LUCKY 
I once went into a restaurant to ask if they had any vegetarian options. The waiter practically scoffed in my face and said no. He also wished me luck for finding anywhere on that street. Merci pal, that was super lovely of you.
So whenever we do go out to eat, it's always a great laugh if I have a choice. I rarely get to choose what I can eat, I usually am just forced to choose the penne arrabiata – which kills a part of my soul each time, as again, I can just eat that at home for about half the price.
Here are some places where you can actually have a choice:
Bianco, Rue Montorgueil
Little Italy, Rue Montorgueil
Indiana (chain restaurant)
Fajitas,  15 Rue Dauphine (my absolute fave- practically everything can be made vegetarian).
3. THERE ARE QUITE A FEW 100% VEGGIE PLACES 
But it is a bit of a mare to drag your friends there, when you kind of just want everybody to be happy with their meal, rather than feeling like they're forced to please the flipping vegetarian.  I've not tried that many, but here are some I can recommend :
Loving Hut, Bastille : They have this chain in London. Although the menu in Paris isn't as wide ranging as the ones in London, it is still super, super good. 100% vegan/vegetarian – I recommend the vegan shrimp!
Le Tricycle : The coolest place I've ever been to – they have really yummy veggie/vegan hotdogs. My friend and I loved it, but my other friend (who isn't a vegetarian) wasn't the biggest fan… Check out their instagram, that should be convincing enough. Note: They're really busy on the weekends, so you might end up queuing for a while, as we did. Try going during the week.
Las Vegans Paris: I've never actually been but I've followed their Facebook page all year long and they seem to have the widest range of options.
4. "WHY DON'T YOU JUST TRY SOME CHICKEN?"
Why don't you just offer me something else other than leaves? It's really not that hard?!??
5. "SO, YOU DON'T EAT FISH EITHER?"
That's actually still an animal, please stop patronizing me and telling me otherwise. Waiters are sometimes the worst.
6. SUPERMARKETS ARE OK.
You won't starve as long as you eat at home. There's always a bio section in supermarkets, soy milk is pretty much everywhere, and it's not ridiculously overpriced.
There's also a "Bio c'est Bon" scattered everywhere in Paris, for great choices of tofu (I'm obsessed with this Japanese flavored tofu), and other meat alternatives. They actually taste a lot better than some of the UK alternatives!
All in all, I'm surprised at how behind Paris is in terms of food.